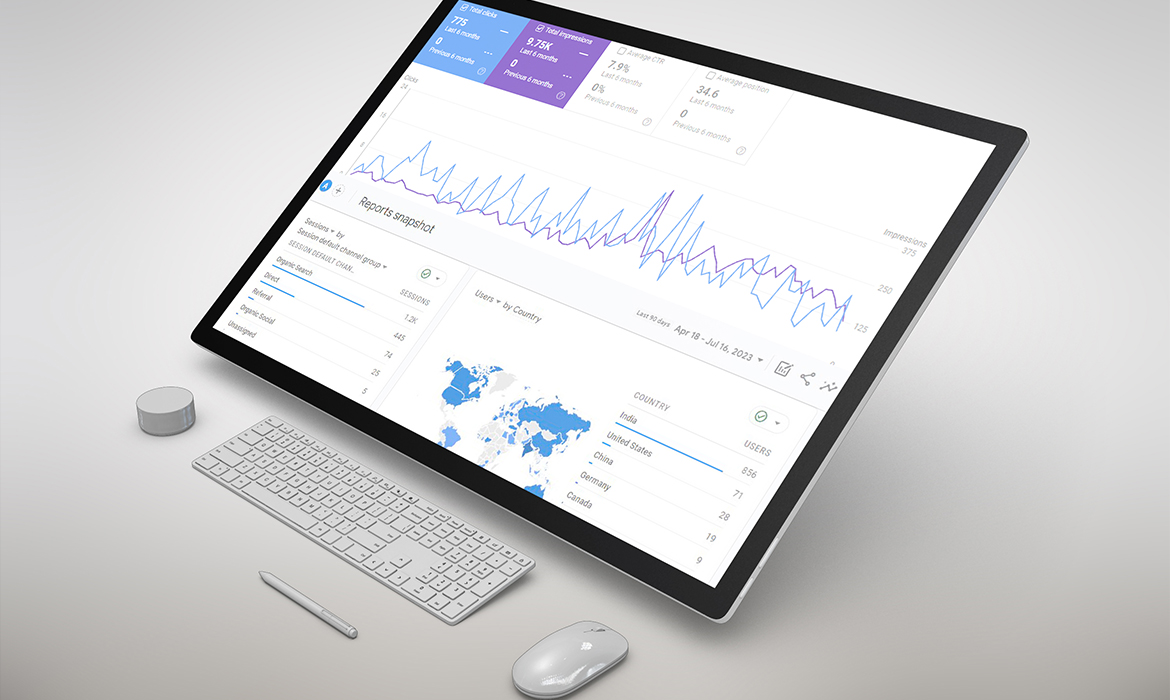 Client Name:
Oritech Solutions
Industry:
Industrial Equipment Supplier
Introduction
In March 2023, Oritech Solutions, a leading industrial equipment supplier, engaged our SEO agency to enhance their online presence and generate more targeted traffic to their website. At the start of the project, Oritech Solutions had limited organic traffic with just 15 visits and 110 impressions. Over the course of three months, we implemented a focused SEO strategy to improve their website's visibility, increase organic traffic, and strengthen their position as an industrial equipment supplier.
Objectives
Increase organic traffic to Oritech Solutions' website.li>
Improve the company's visibility in search engine results pages (SERPs) for relevant industrial equipment keywords.li>
Enhance keyword rankings to establish Oritech Solutions as a trusted provider of industrial equipment.
Approach
Our team conducted an in-depth analysis of Oritech Solutions' website and the competitive landscape within the industrial equipment industry. Based on our findings, we developed a targeted SEO strategy that focused on the following key areas:
Keyword Research and Optimization: We performed comprehensive keyword research to identify industry-specific terms and phrases that potential customers would use when searching for industrial equipment. These keywords were strategically incorporated into the website's content, meta tags, headings, and URLs to improve its relevance and visibility in search results.
On-Page Optimization: We optimized the website's on-page elements, including meta titles, meta descriptions, headings, and internal linking structure, to improve its overall SEO performance. This ensured that search engines could better understand the content and context of the website.
Technical SEO: We conducted a thorough technical audit of the website to identify and resolve any issues that could hinder search engine visibility and user experience. This involved optimizing site speed, ensuring mobile-friendliness, resolving crawlability issues, and improving the website's overall technical performance.
Content Strategy: We developed a content strategy focused on creating informative and engaging content that addressed the needs and pain points of potential customers in the industrial equipment industry. This included blog posts, articles, and product guides optimized for relevant keywords, positioning Oritech Solutions as a knowledgeable and reliable resource.
Link Building: implemented a targeted link-building strategy to acquire high-quality backlinks from reputable websites in the industrial equipment niche. This involved outreach to relevant industry publications, guest blogging, and creating valuable content that naturally attracted inbound links.
Results
Within just three months of implementing the SEO strategies mentioned above, Oritech Solutions experienced rapid growth in website traffic, impressions, and keyword rankings. The results achieved are as follows:
Organic Traffic: The website's organic traffic increased significantly, with approximately 735 clicks generated over the three-month period. This growth in targeted traffic can be attributed to the improved search engine visibility and enhanced rankings for relevant industrial equipment keywords.
Impressions: Oritech Solutions' total impressions grew to approximately 9,190, indicating a notable expansion in their online presence. The website started appearing in search results for relevant industry queries, leading to increased brand exposure and awareness among potential customers.
Keyword Rankings: Within the three-month period, Oritech Solutions achieved top 10 rankings for 15 keywords related to industrial equipment. These high rankings established Oritech Solutions as a trusted and reputable provider in the industry, driving targeted traffic and increasing the likelihood of conversions.
Conclusion
Through the implementation of a focused SEO strategy, Oritech Solutions experienced rapid growth in organic traffic, total impressions, and keyword rankings within a span of three months. By focusing on keyword research and optimization, on-page optimization, technical SEO, content strategy, and link building, Oritech Solutions strengthened its online presence in the industrial equipment industry.
The increased visibility and targeted traffic resulted in improved brand exposure, more qualified leads, and potential business growth for Oritech Solutions. The collaboration between Oritech Solutions and our SEO agency demonstrates the power of effective SEO strategies in attracting relevant organic traffic, enhancing brand visibility, and achieving accelerated growth in a competitive industry.